gigs
Posted November 25th, 2006 by RayDrossaert
in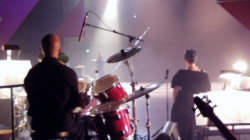 Yesterday I conducted big band Close Formation at the Sportsgala in theatre "de Maaspoort", where sports-related awards were presented, and what an evening it was!
Subscribe to feed
Posted October 9th, 2006 by RayDrossaert
in
Strange gig yesterday... We ("de Bloeiende Rammenas") were hired to play at a rather large consumer fair. I wasn't too happy with this gig since it required that we play only 15 minutes and than take a 30 minute break, and so on for a couple of hours. And when we got there, it turned out that we were only allowed to play 10 minutes every hour! To make matters worse, we were asked to play as quiet as possible, since booth occupants were already complaining about the previous act (a singer with backing tracks).
Subscribe to feed