Welcome to Creatid Music Services!

This is the site of Ray Drossaert: arranger, composer and conductor. On this site you can find out what Creatid Music Services can bring to your projects. As an experienced musician, Ray has developed a distinctive personal style, in which boundaries between styles and genres often disappear, always intent on bringing something new to the project. Turning the familiar into something surprising, but always clearly recognizable. This way you are assured of a creative and effective completion of your commission.
What are "music services" ?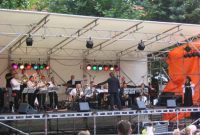 Creatid Music Services specializes in musical support for your projects. This could be a complete soundtrack for a feature film, audio/visual presentation or commercial, but also arrangements for bands and orchestras; additional parts for a cd recording ("sweetening"); music for your lyrics (also musicals) or complete backing tracks. The possibilities are virtually endless, because the work is always done to your specifications, so don't hesitate to contact Creatid Music Services with your specific wishes and ideas.
Because your assignment - your briefing - is always at the center, you are assured of a personal approach. Your specifications determine in the end what is delivered. Of course this does not mean that your assignments are completed in a worn-out, clichщd way, far from it. Ray Drossaert's personal style always produces a colourful, remarkable and effective result.
What's on this site?
This website contains general information about the various services, to present you with a first impression of the possibilities Creatid Music Services can offer. Of course, because each project needs a different approach, it would be best to inquire for specific information using the contact form
Most of the posts on this site are concerned with various aspects of music, film, corporate video and the business side of things. Feel free to comment on the posts! If there are certain things you like to see on this site, please drop a note.
If you want to know more about Ray Drossaert himself, you can find it on the bio page.
Subscribe to feed